Description
ELONGATED OCTOGONALE 
Also available in 2 other size
---
300 x 500 x h 130 cm
300 x 600 x h 130 cm
ADVANTAGES
EIGHT 8 Elongated
---
Large model.
Optimal water mixing.
Authorizes the installation of a shutter or a roller, facilitated by the removable stainless steel ladder and its inverted plates which leave the copings flat.
Sand filter
The purpose of the pool filtration system is to retain suspended solids in the pool water. It is provided with a filter containing Aqualoon filter balls. The water treatment will be provided by the customer, either by a manual or automatic process (not supplied).
The filter tank is filled with Aqualoon filter balls through which the water circulates. The balls will thus retain the impurities contained in the water. When they are overloaded with impurities, the Manometer alerts you (gradual pressure rise) that it is time to clean the filter, at least once a week during the bathing season. Cleaning is done using the BACKWASH function of the 6-way valve. The size of the filter is related to the power of the pump and the size of the pool (water volume).
Polyester reinforced fiberglass tank
6-way valve at the head of the tank
Large drain plug for rapid water evacuation.
Materials resistant to the aggression of chemical agents
Turbidity indicator for sand cleaning
3-part unions that do not require Teflon
Chromed steel manometer, in oil bath
5-year warranty (non-decreasing) on ​​the tank
2 boxes of Aqualoon provided
Ø 50mm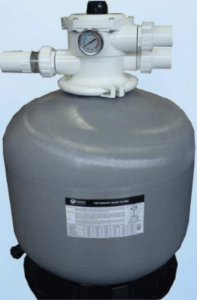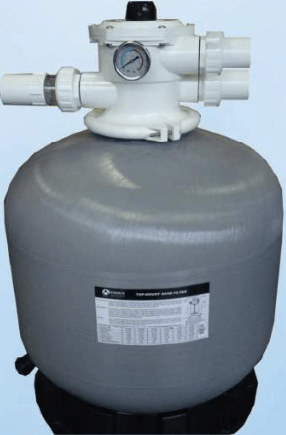 Pre-filter pump
8m3/h model
Inlet and outlet in Ø50, by union to be glued
Flow: 8m3/h (power 3/4CV, consumption 0.75kw/h)
Supplied with a 30mA differential with male plug

According to European Directive 2006/95/EC, any pump likely to be moved by the customer must be fitted with a 30mA differential on its power cable. This differential does not allow the pump to be connected to a clock because each time the current is interrupted, it must be reset manually.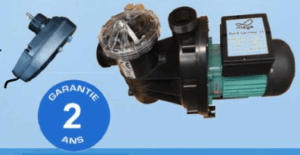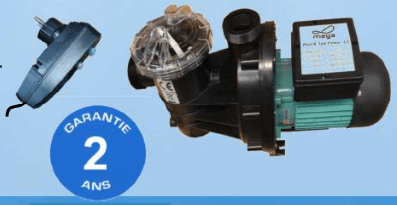 Coping
Autoclaved pine
Curbstone 2 tongued grooved boards
Total section 33 x 270 smooth
Miter cut in the corners
Optional stainless steel corner cover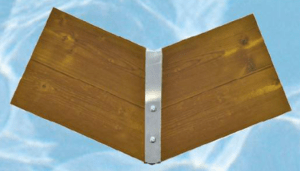 Parts to be sealed
Skimmer
Rectangular mouth 300mm wide
Clip-on screw covers
Skimvac tray (for connecting a cleaner)
Outlet Ø50 to screw
Return nozzle
Adjustable ball joint
Joint on both sides of the liner
screw-on flange
Outlet Ø50 to be glued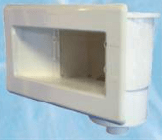 Hydraulic kit
1 skimmer union
2 elbows 90° (including 1 for the spot)
1 ball valve
1 coil of 25m of semi-rigid pipe Ø50
1 pot of blue glue
1 roll of Teflon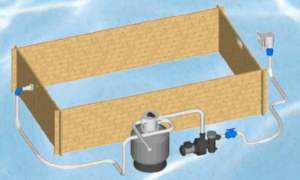 Protective felt
Anti-bacteria treated
Supplied for the floor
Protects your liner from the concrete slab
Polypropylene 250gr/m2
In a 4 m wide roll (depending on the model)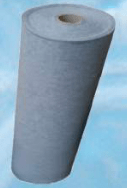 Outside staircase
Delivered, if optional metal reinforcements ordered.
Class IV autoclaved pine
Any above-ground pool of 85 cm or more must be equipped with a standardized means of access (stairs).
Any above-ground pool of 1m10 will be considered secure, if it is equipped with a means of access (removable staircase).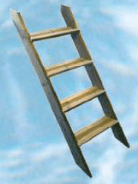 Stainless steel scale
Straight 3 steps Inverted fixing plates (to be embedded in the coping): when the ladder is removed, nothing protrudes from the coping!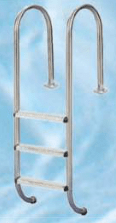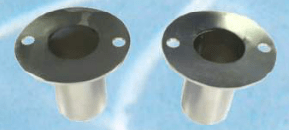 Hardware case
Supplied with each pool
Stainless steel TORX screws
Supernumerary screws
Easy and secure transportation of screws and bolts on site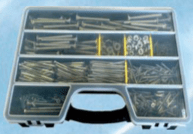 SPECIFICATIONS
POOL FOUR 4 ELONGATED
---
Overall dimensions: 400 x 750 cm
Internal dimensions: 350 x 7000
Height under coping: 130 cm
Surface area of ​​water: 22,32 m³
Cubage at the water line (flat bottom): 26,34 m³
Autoclaved pine coping
Plain liner 75/100th (choice between 4 colors)
Floor protection felt
Stainless steel ladder 3 steps
External access wooden staircase: if beams option
Skimmer: 1
Discharge nozzle: 1Pump flow: 8m²/h
Filter media diameter: Ø 450
Filter load provided AQUALOON: 25 kgs
Installation not included
Installation is not included when purchasing a pool.
Would you like to have your pool installed by a Go for Pool professional? Find an installer.
EIGHT 8 Elongated
THE OPTIONS
---
White LED spotlight + transformator
The white LED spot option, supplied with its 220V/12V transformer
Consumption : 42 watts
Luminous flux: 2100 lm
Lifespan: 30,000 h
To be screwed onto a wall stud (supplied)
Cable 2×1.5mm² of 2m included
Only 1 spot per pool is sufficient
The LED spotlight must absolutely be ordered together with the pool because it requires a cut-out in the wood.
The option includes the part to be glued. The knee and PVC pipe are also provided to avoid the need to empty the pool in case of on-site intervention. (Price not comparable to that of the spot alone).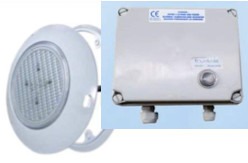 White LED spot + box
With Led Spot
Consumption: 42 watts
Luminous flux: 2100 lm
Lifespan: 30,000 h
To be screwed onto a wall stud (supplied)
Cable 2×1.5mm² of 2m included
Only 1 spot per pool is sufficient
The LED spotlight must absolutely be ordered together with the pool because it requires a cut-out in the wood.
EIGHT 8 Elongated
THE OPTIONS
---
Electrical box
Filtration pump programming clock
Magnetic protection of the pump
Female side socket with 30mA differential to connect the filtration pump
Transfo toric 100VA (for white LED projector)
Stuffing box packing for a better seal
Ready for a heat pump (connection not controlled by the clock)
Has 2 free slots to connect a salt electrolysis, pH control or others. (Linked to the clock).
IP65 protection class
Heat pump
There are two types of heat pumps, heat pumps for private swimming pools: the so-called "On / Off" heat pumps and the "Full Inverter". You can find more information by clicking on the link here:
Shutter
The shutter has many advantages
It saves water, chemicals and energy, its motorization integrated into the shaft and the blades available in color also make it aesthetic. The safety aspect is not forgotten: Our shutters are approved safety standards NF90-308.
Reduced evaporation
Reduced heat loss
Economy of products
Slowing algae growth
Reduction of water pollution, reduction of evaporation up to 85% temperature gain of about 5°
CERTIFICATION NF 90-308
Our shutters have been tested by the LNE, they can be installed in such a way as to meet French safety standards NF 90-308 from 2.30m pool width. These standards are considered the strictest in Europe.
Composition of the Kit (excluding blades)
2 stainless steel legs + 2 PRN wooden leg trims.
Automatic limit switch, electrical box with electronic card and transformer, shaft with 120Nm motor, key box.
The "+" of the Component
The shutter was developed with a reputable manufacturer.
It is to be ordered with the pool because we are making a few changes that make the difference. Here are some reasons that have prevailed and that justify its development.
1° Guarantee the compatibility of the cover with the pool.
The additional weight of the shutter on the copings must be taken into account.
Reinforcements of wooden structures are provided under the copings for this purpose.
2° Bring a "plus" at the aesthetic level.
The trims of the shutter feet are of the same species as those of the copings.
The stainless steel feet have been sized to be upholstered and to integrate the key box.
3° To facilitate installation.
We disburse the wood of the copings in order to receive the stainless steel feet. Once the copings have been placed with rigor, the location of the stainless steel feet is determined.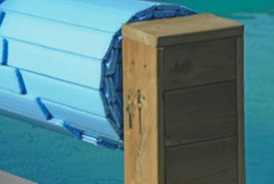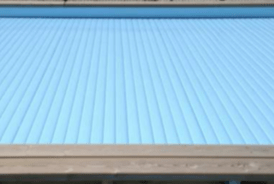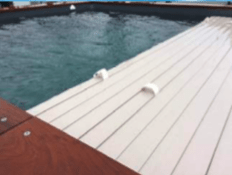 Engine room
Chevron structure 35×45 mm + north red pine wall, 22 mm thick groove/groove boards
Shelter completely autoclaved, class 3
Double door thickness 22 mm with fittings
stainless steel nails
Useful dimensions
Facades : 140 cm
Depth : 103 cm
Front height: 124 cm
Rear height : 114 cm
Isothermal cover (bubble cover).
Bubble cover
The isothermal cover (also called bubble cover) allows you to keep the heat and prevent water evaporation (and therefore also reduce your consumables).
Lightweight, it has the advantage of being easy to handle, especially in combination with a reel.
CAUTION: The isothermal blanket is not a safety blanket. If you have small children or pets, we advise you to opt for a safety cover.
– Thickness 400µ luxury version lined on 4 sides*.
– Anti-oxidant treatment to protect the polyethylene from the chlorine present in the water.
– Polyethylene reinforcement on the entire perimeter (hem) provided with stainless steel eyelets on one width (roller side) and 1 eyelet at the opposite angles.
– Delivered with a protective tarpaulin and 3 rubber bands to be positioned on the cover when it is rolled up.
– Rainwater drainage holes.
Did you know ?
* The planking of the 4 faces allows to keep its cover several seasons. Thanks to this hem, the edges dry out and break less quickly. All good for the environment and your wallet!
Security cover
There are 4 ranges of safety cover (also called winter covers):
-Those without crossbars for completely buried pools called "Wood".
-Those with crossbars for completely buried pools called "Wood-Bar".
-Those without crossbars for above-ground pools over 60cm, called "Wood-up".
-Those with crossbars for above-ground pools over 60cm, called "woodbar-up".
(Note that these covers are quite thick and cannot be used with a roller)
Our safety covers meet the NF-P90-308 standard.
The installation must comply with certain requirements to guarantee safety, (example: height of the hooks on the walls for above-ground swimming pools. (Refer to the instructions for use).
Covers with bars are easier to handle thanks to their steering wheel.
In addition to their higher purchase cost, there are higher transport costs (The bars cannot be folded and must be packed. We recommend comparing this offer with above-ground electric shutters, which are very practical. However, the cover bars can be installed on octagonal pools (Eight and Eight Elongated).
Technical characteristics of our safety blankets:
-PVC coated fabric 580gr/m² treated against U.V. and anti-cryptogamic (mushrooms and plants).
– Assembly by high-frequency welding with 6cm welded hem
-Double stainless steel eyelet approximately every 90cm. Securement system supplied (piton-socket or stainless steel fixing hooks).
10 YEAR WARRANTY
WOOD FRAME
---
Our pool walls are made of Northern Red Pine (Scots Pine), 45mm thick, from regions north of the 57° parallel. This Nordic origin gives them resistance and natural durability superior to species from more temperate regions, often used by other manufacturers (Spruce, Landes pine, Douglas fir and other native species). We only choose slow-growing, high-density woods of excellent quality.
We treat our wood in an autoclave, this treatment under pressure aims to preserve the wood from xylophagous insects and lignivorous fungi.
Subject to compliance with the assembly instructions, we guarantee the framework for 10 years.
The traditional half-timber assembly technique used for centuries in the construction of chalets in Scandinavian countries guarantees our structure exceptional strength and rigidity. It can withstand extreme conditions and the strongest pressures/compressions.
The coating
Your swimming pool is sealed with a 75/100th thick liner.
This quality liner is guaranteed for 10 years, on welds and sealing, with a degressivity rate of 10% per year.